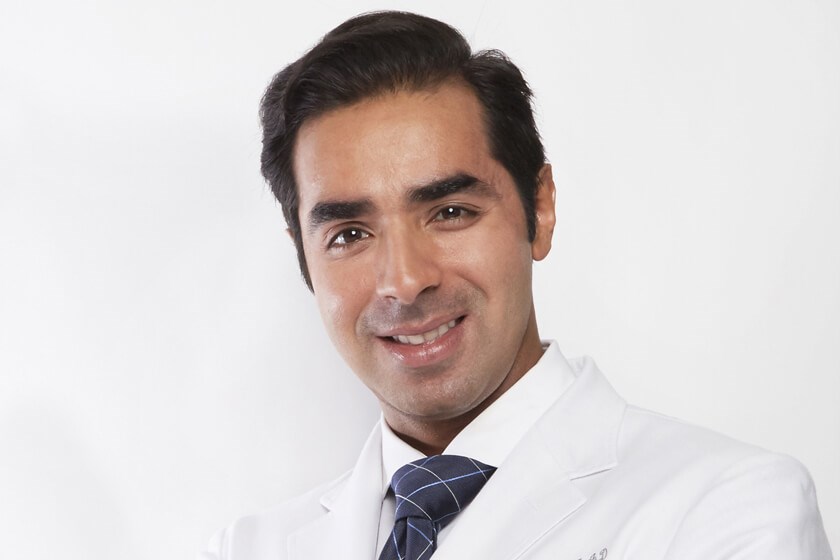 Meet Sameer Bashey, MD FAAd
Dr. Sameer Bashey, MD FAAD is a board-certified dermatologic surgeon with extensive training in surgical, cosmetic and laser dermatology located in Beverly Hills, CA. Dr. Bashey brings sincerity, subtlety and a keen aesthetic eye to his work as a cosmetic dermatologist at ZO Skin Centre® Beverly Hills. His is one of the most sought after physicians in the cosmetic realm because of his passion for perfection and subtle beauty. An artist who treats each patient holistically, Dr. Bashey espouses the less is more philosophy. Zealous about educating each patient on how to age gracefully and optimize skin health, his patients don't just leave the office as the best version of themselves, but educated and informed consumers.
Although a master injector who contours many of the most well-known faces in the world, his expertise and niché lies within the sub-specialty of comprehensive skin resurfacing. Utilizing cutting-edge technology that combines both chemical peels and ablative fractional lasers, Dr. Bashey is a master at restoring skin to its most pristine state. Skin resurfacing allows for the correction of laxity, scars, sun damage, and textural irregularities allowing complete rejuvenation and agelessness.
A lifelong learner, he continues to train closely with master dermatologist and world-renown innovator, Dr. Zein Obagi. Their shared passion for skin health and treating the whole individual has deeply influenced Dr. Bashey's work. Known for his compassionate bedside manner, patients rave about his thoughtful approach to achieving healthy and flawless results. His techniques are cutting-edge, meticulous, and innovative; he strays away from the standard cookie cutter approaches most doctors use. He is a maverick in his field and has a style all his own, unconventional and bold.
Dr. Bashey completed his undergraduate work at Amherst College where he studied the humanities and sciences. Following this, he received his medical education at the prestigious Mount Sinai School of Medicine in New York City. He completed his internship in Medicine and a two-year fellowship in skin cancer at Stanford University where his work led to the development and subsequent approval of numerous skin cancer-fighting drugs. He then completed his dermatology residency at the University of Southern California here in Los Angeles and is also a clinical instructor at USC where he teaches residents and fellows. He is extensively published in the field of dermatology.
When not practicing in ZO Skin Centre® Beverly Hills, Laguna Beach or Pasadena, you can find him traveling the world to learn the most innovative cosmetic techniques available. He is fluent in five languages and is competitive tennis and soccer player and avid boxer.
Certifications and Honors
Board-certified in Dermatology, September 2016 – Present
California Medical License, July 2011 – Present
RealSelf Top Doctor, May 2017 - Present
University of Southern California in Los Angeles, Clinical Instructor in Dermatology