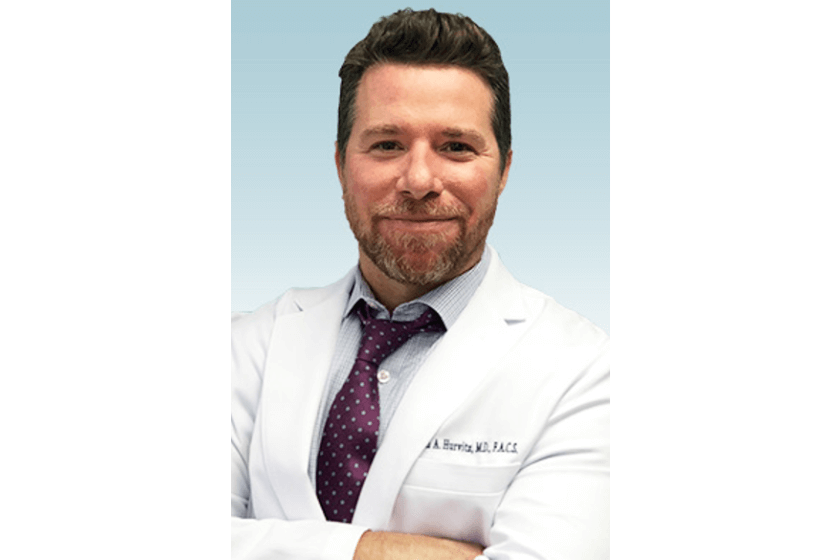 Dr. Keith Hurvitz is a highly trained and experienced board-certified Plastic Surgeon at ZO Skin Centre® in Beverly Hills, CA. He has been practicing in the Los Angeles area since 2007. He was awarded the Long Beach Press-Telegram Reader's Choice Award for "Favorite Cosmetic Surgeon" in 2014, 2015, and 2020. Los Angeles Magazine awarded him the "L.A.'s Top Doctors" award in 2020 and has recognized him annually as a SuperDoctor®. Within our state-of-the-art facility, Dr. Hurvitz works with his patients to curate personalized treatment plans that yield optimal results. His many years of training allow him to fully understand the needs of every patient for more desirable outcomes. He performs cosmetic surgery of the entire body and has a special interest and skill in facial cosmetic surgery, in particular rhinoplasty surgery.
After completing medical school, Dr. Hurvitz entered his first residency at the highly sought-after Otolaryngology-Head and Neck surgery residency program at USC. This five-year surgical program exposed him to the multiple facets of facial cosmetic surgery. Dr. Hurvitz decided early on to focus his efforts on perfecting his techniques in nasal surgery (rhinoplasty/septorhinoplasty), facelift surgery (rhytidectomy), and eyelid lifting surgery (blepharoplasty). With respect to rhinoplasty and septorhinoplasty surgery alone, Dr. Hurvitz had completed hundreds of nasal surgeries by the time he finished his training at USC.
In pursuit of perfection, Dr. Hurvitz sought out further specialty training after completing his Otolaryngology residency. Instead of following with a limited one-year facial plastic surgery fellowship as most ENT surgeons do, Dr. Hurvitz was accepted into a full Plastic Surgery residency program at the University of California, Irvine (UCI) Medical Center. While there, he broadened his skills in surgery to encompass full-body plastic surgery. In addition to becoming proficient in breast surgery (breast augmentation, breast lifting), he also learned the skills of body contouring procedures such as abdominoplasty (tummy tuck), liposuction, and body lifting. Dr. Hurvitz has since published peer-reviewed papers on both the topics of abdominoplasty and liposuction. While still at UCI, he worked closely with many experts in the field of plastic surgery, including one of the world's most renowned rhinoplasty surgeons.
Dr. Hurvitz serves as Chief of Plastic Surgery at Long Beach Memorial Medical Center since 2012. He is a volunteer Associate Professor of Plastic Surgery at the University of California, Irvine (UCI) and the Residency Director of the UCI Plastic Surgery program at Long Beach Memorial Medical Center, where he educates and trains the plastic surgeons of the future. He is an active member of the Long Beach Memorial Cleft Lip and Palate Team and regularly performs complicated reconstructions on infants born with facial deformities. Dr. Hurvitz is currently certified by the American Board of Plastic Surgery and the American Board of Otolaryngology – Head and Neck Surgery.
He is an active member of:
The American Society of Plastic Surgeons

The California Society of Plastic Surgeons

The Alpha Omega Alpha Medical Honor Society

The American College of Surgeons (Fellow)

The American Cleft Palate-Craniofacial Association